OUR MISSION
Ethiopia Health Aid is a non-profit humanitarian organization committed to building healthy, self-reliant communities in rural Ethiopia.
Fighting the Inequity Triad: illiteracy, poverty, and disease
Ethiopia is among the five poorest countries in the world. 90% of rural Ethiopia is plagued by the Inequity Triad of illiteracy, poverty and disease. 
Sustainable Solutions: Education, Health, and Action
To fight this triad, we provide sustainable solutions focused on education, health and action.
Join us and experience this life-changing opportunity
MAKE A DIFFERENCE
Since 2010, EHA teams of global and local Hope Builders have worked tirelessly to bring education, health and action to the rural communities where the need is greatest. Your financial gifts will make a difference in EHA's mission to build healthy, self-reliant communities in rural Ethiopia through education, health, and action.
Patient Care Fund. Save Lives A World Away. We send medical missions to rural Ethiopia twice a year, and provide medical services and medications to patients in need.
Our volunteers perform extraordinary medical miracles during each mission service.
Your support helps us bring medication, equipment, supplies and other resources to help rural hospitals and remote clinics.
School Support. Support our work to help sustain the only school system available within 120 kms (that's a 4 hour drive) from town.
Our school campus is home to a primary school, a high school, a library as well as a science and computer lab.
Your donation will help get students the reference books, lab equipment and computer training they need to help them apply for college.
Hospital Equipment Fund. Remote locations combined with lack of transportation and medical services make even health disparities in rural Ethiopia so much greater and life-threatening. Negele Arsi General Hospital and Medical College is the first rural, American-standard, state-of-the art hospital that provides care and medical education where none existed before.
Help support Negele Arsi General Hospital and Medical College with life-saving services and equipment.
Help us furnish the hospital with beds, operating rooms, x-ray suites and other vital equipment to save the lives of more than 1.2 million people in this area.
Muyo Bati Fund for Girls. Change someone's future through Education. Illiteracy is destroying the lives of teenage girls in rural Ethiopia. In most villages, only 1 in 4 girls gets to attend high school. We're changing that equation.
The EHA Robotics Academy is the first-ever Robotics education program in rural Ethiopia for students ages 12 and up. Founded by California Robotics Champion Jake Futterman, the Academy provides hands-on training from the basics of robotics design to actual building of the robots, culminating in tournament-level challenges.
At Gode High School, 65% of the high school graduates are girls — and they're college-bound. Help us send more girls to school.
Thanks to donors like you, we're building H.O.P.E. — health, opportunity, progress, and education — where none existed before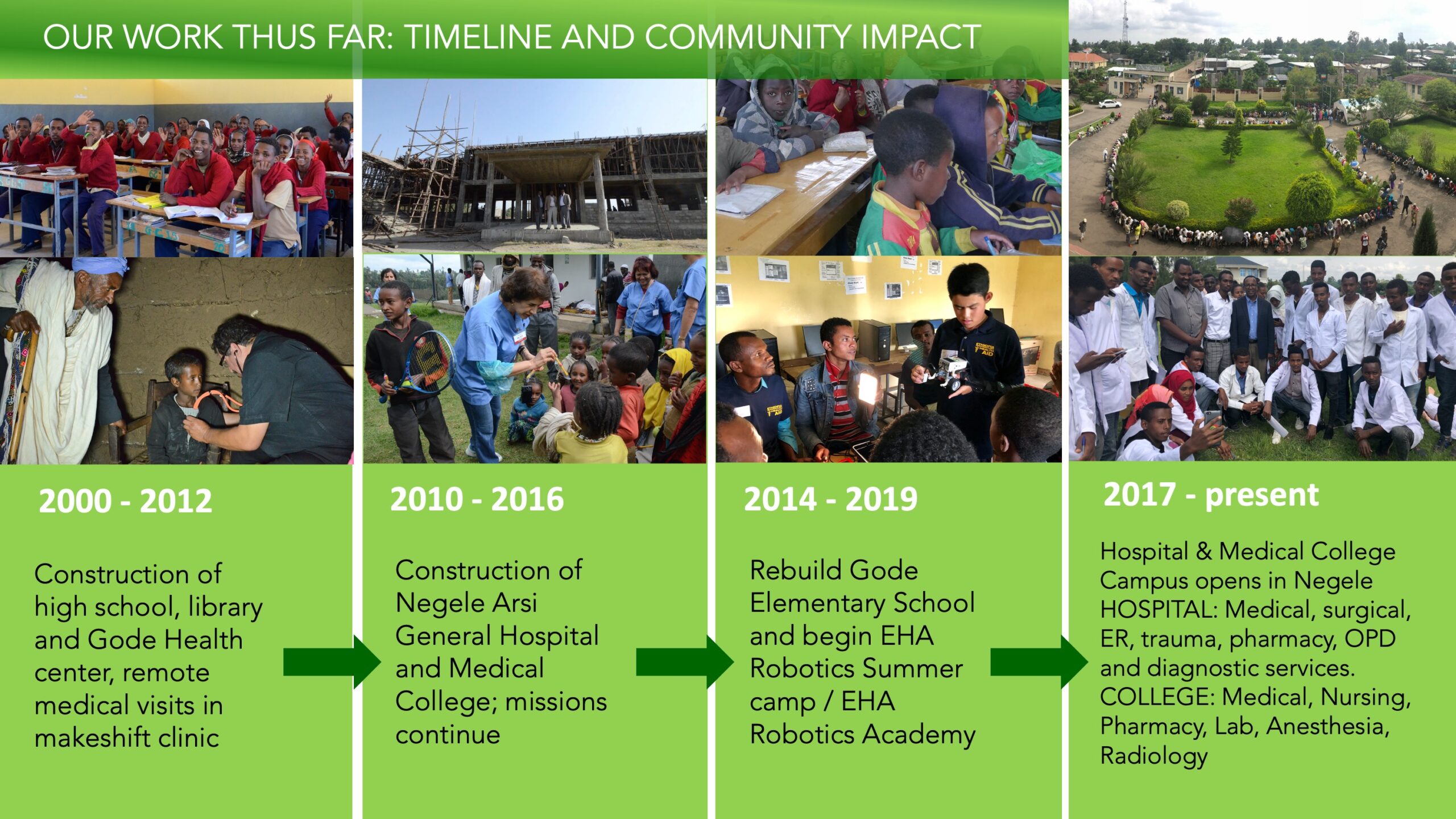 About Us.
We are a non-profit 501 (c) 3 organization. We've been improving the quality of life in Rural Ethiopia since 2007. Our medical volunteers provide health and education resources where care is scarce. Our reach extends from rural village to shantytown to developing city in the Southern Oromia region of Ethiopia. We engage our local counterparts through meaningful transfer of knowledge and work together to invest in people and resources to improve the communities we serve.